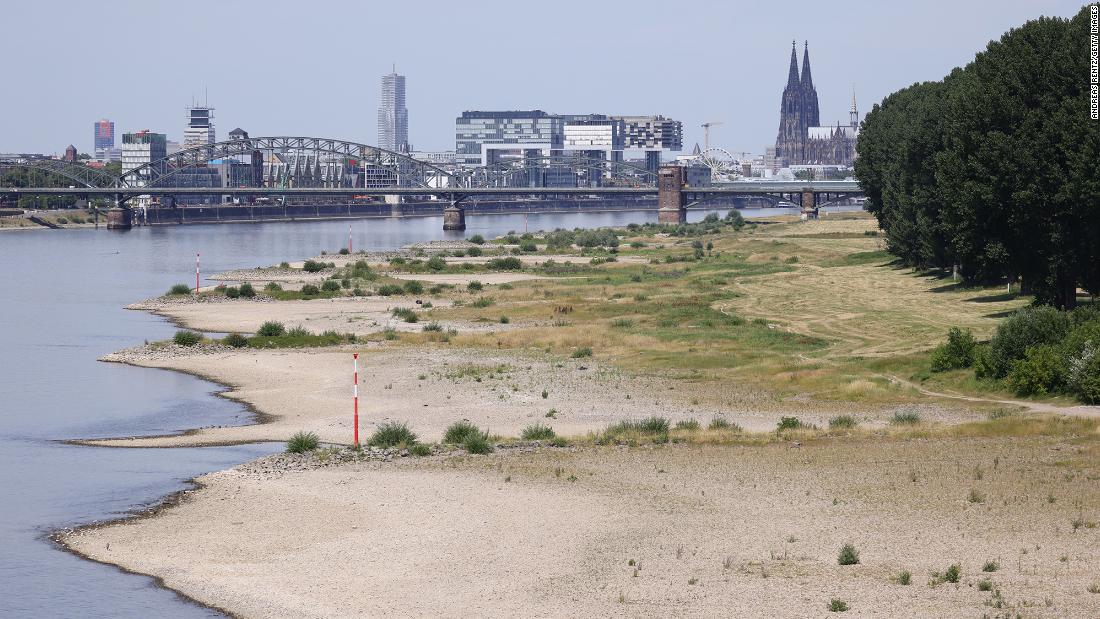 There's record inflation, made worse by Russia's war in Ukraine. A
weak euro
is making it more expensive for businesses to import necessary goods. Italy, the bloc's third-biggest economy, is embroiled in a political crisis following the
ouster of the country's prime minister
.
But Brzeski is also keeping a close eye on extreme weather. A summer of dryness and blistering heat, exacerbated by
climate change
, is compounding headaches for businesses across Europe, weighing on economic output at a moment when every bit counts.
"This adds to the worries," Brzeski said.
Water levels along Germany's Rhine river, which is crucial for transporting chemicals, coal and grain, are so low that shipping has been disrupted, threatening to further
scramble supply chains
. Warm water temperatures in France are impeding the operation of some nuclear power plants amid
other maintenance issues
. And in northern Italy, farmers are muddling through the worst drought in 70 years, affecting the production of crops from soya to parmesan.
But the ECB's capacity to act could be limited as economic activity goes into reverse. The euro zone saw output shrink in July, according to data from S&P Global released Friday.
Chris Williamson, chief business economist at S&P Global Market Intelligence, said that means the euro zone economy is likely to contract between July and September. The fall and winter could prove even more challenging.
Drying Rhine hits supply chains
In Europe, the costs of a winter and spring with little rain and an intensely hot summer are piling up.
Water levels along the Rhine, which is Germany's most important inland waterway for the transport of industrial goods, have fallen precipitously, disrupting the routes of shipping vessels. The Rhine is crucial for the movement of commodities including coal, which is in higher demand as Germany races to fill storage facilities with natural gas ahead of next winter.
Water flows at the Kaub gauge, located to the west of Frankfurt, are at 45% of average levels for this time of year, according to data from Germany's Federal Institute of Hydrology. The agency said that has created "frequent obstructions" for ships. It doesn't expect a recovery in water levels until late August.
Eric Heymann, an analyst at Germany's Deutsche Bank Research, said that means not all ships can be loaded at full capacity. Some will decide it doesn't make economic sense to complete certain trips if they have less cargo, according to the Federal Institute of Hydrology.
"It's another disturbance for supply chains and a risk factor for power supply," Heymann said.
Rhine concerns could weigh on Germany's hugely important manufacturing sector, as when the river was too dry in 2018. Researchers at the Kiel Institute for the World Economy found that in a month with 30 days of low water, the country's industrial output fell by about 1%.
Worrying consequences
Warmer water temperatures also make it more difficult for inland power plants to operate, since they rely on rivers for cooling. In France, the utility giant EDF said Friday that three reactors were running at lower capacity because of the higher temperatures of nearby rivers. Hydropower production in Europe is also expected to take a hit.
"The situation is very messy," said Marco Alverà, who previously served as CEO of the Italian energy infrastructure company Snam.
He's concerned that high power usage this summer, as households and businesses run their air conditioning, could eat into supplies that need to be preserved for the winter. Europe is currently stockpiling fuel in case Russia cuts off shipments of natural gas.
"I'm afraid there will be blackouts," said Alverà, who now heads up TES, a green hydrogen company. "Even if Russia doesn't cut supply, the market is very tight."
"It's going to add another stress," he said, emphasizing that the cost of living will rise.